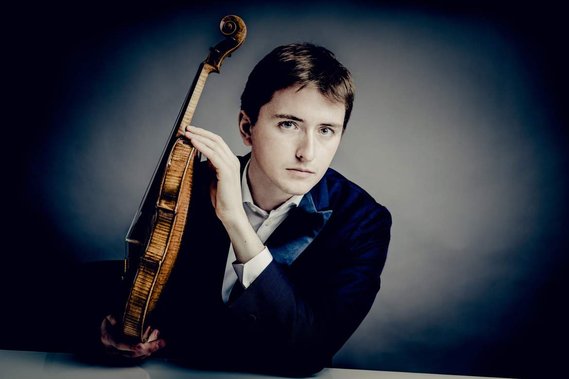 Brieuc Vourch was born in Paris in 1995. At the age of thirteen, he entered the Juilliard School of Music in New York, in the class of Itzhak Perlman. He continued his training with Boris Kuschnir in Vienna and Daniel Gaede in Nuremberg.
He currently attends the Concertmaster Artist Diploma program of the Accademia Stauffer in Cremona, Italy.
He participated, as a soloist, in the Verbier Festival Academy in Switzerland, as well as in the Schleswig-Holstein Musik Festival Academy in Germany, and gained orchestral experience in the Vienna Philharmonic Orchestra's International Orchestra Institute Attergau. He has also received violinistic guidance from Thomas Brandis, Milan Šetena, Frank-Peter Zimmermann, and Leonidas Kavakos.
As a soloist, concertmaster, and chamber musician, he has collaborated with artists and ensembles such as the Philharmonische Orchester Heidelberg, the Copenhaguen Philharmonic Orchestra, the NDR Radiophilharmonie Orchestra, the Sweden based Dalasinfoniettan Orchestra, the Adelphi Chamber Orchestra, the Appassionato Ensemble, Frans Helmerson, Nobuko Imai, Mihaela Martin, Tanja Tetzlaff, Svetlin Roussev, Roman Simovic, Roberto Gonzalez Monjas, Andrew Manze, Mathieu Herzog, or Mojca Erdmann.
At 22, he won a concertmaster position at the Philharmonische Orchester Heidelberg. Subsequently, he made his concertmaster debut in the opera Madama Butterfly under the direction of Elias Grandy.
Prizewinner of the Anton Rubinstein International Violin Competition, the Ravel International Academy, the Adelphi International Young Artists Competition, the Manhattan International Music Competition, the Callegaro International Music Competition, Brieuc was also Hantang Culture Young Artist of the Year in China and finalist of the New York Worldwide debuts auditions.
He took part in the Queen Elisabeth International Violin Competition.
Brieuc Vourch has been supported by the Safran Group Foundation for Music, Concordia Foundation for Music, Beares International Violin Society, Johannes Brahms-Stiftung, Franz Wirth Gedächtnis Stiftung, Mara und Holger Cassens Stiftung, and the Fundación Internacional para la Difusión de las Artes y Humanidades.
He regularly performs in the most prestigious concert halls such as St Martin-in-the-fields in London, the Grand Theatre in Shanghai, the Flagey Auditorium in Brussels, or the Alice Tully Hall in New York.
In 2021, Brieuc Vourch released his first CD under the label Farao Classics, unanimously praised by the press, titled CD of the Year by Radio Romania Muzical, and nominated for the International Classical Music Awards and Opus Klassik 2022.
Brieuc plays on a Francesco Ruggeri violin from 1690.
He lives in Hamburg, Germany.